News Release: Netconcepts Retained By Online Shoes
Agency Contact
Christina Armstrong
Connecting Point Communications
[email protected]
650-867-4899
Netconcepts Retained By Online Shoes for Natural Search Optimization Consulting Services
Madison, WI â?? April 10, 2008 â?? Netconcepts, the leader in natural search marketing, today announced that Onlineshoes.com has retained Netconcepts' natural search consulting practice. The companyâ??s search consulting team is expert in the latest techniques of natural search optimization and online marketing that improve the effectiveness of the natural search channel. Onlineshoes.com is the nationâ??s first online shoe retailer carrying footwear for men, women and children in more than 33,000 styles and across 200 premium brands. The company is listed as #129 in the Internet Retailer Top 500 Guide in 2007.
â??We were disappointed with our non-brand search results and decided we had to optimize the website for visitors and search engines to increase the amount of natural search results," said Dan Gerler, founder and CEO of Onlineshoes.com. â??We chose Netconcepts to lead us through the process of increasing the performance of our Natural Search Channel because the company has a proven track record for providing outstanding results for many leading online retailers.â??
â??The most successful online retailers understand that prioritizing natural search organically increases sales, because consumers use unbranded â??long tailâ?? natural search terms 40 times more often than they use branded terms,â?? said Brian Klais, Vice President Search for Netconcepts. â??We are eager to begin working with Onlineshoes.com and make a positive impact on its sales results.â??
About Netconcepts, LLC
Netconcepts, the leading provider of natural search marketing, offers automated natural search technology and value added services tailored to help retailers drive online sales. For the largest retail brands, Netconceptsâ?? GravityStream solution is an award winning, patent pending SaaS technology that powers the natural search channel. GravityMarket is a comprehensive eBusiness solution for mid-market retailers. Founded in 1995, the company is based in Madison, Wisconsin with R & D facilities in Auckland, New Zealand. Netconcepts serves retail brands such as Sketchers, Northern Tool, iFloor, BNET (a division of CNET) and Cabela`s among others. For more information, visit the company Web site at www.netconcepts.com.
About Onlineshoes.com
Established in 1996, Onlineshoes.com is the nationâ??s first online shoe retailer. With a history that began decades ago in a family-owned corner shoe store, the company is committed to delivering exceptional value and service. Onlineshoes.com offers fashionable, high quality dress, casual and athletic footwear for men, women and kids in more than 33,000 styles and 200 premium brands, as well as athletic apparel and accessories. In addition to price and satisfaction guarantees, customers enjoy free shipping and exchanges every day of the year. For more information, visit www.onlineshoes.com.
###
Comments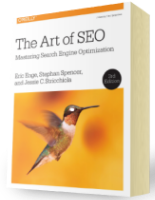 Chapter 7:
Content Marketing
From the fundamentals of link building to the nuances of natural linking patterns, virality, and authority.
Get Free Chapter