News Release: PJ Fusco
Contact: Boone Sesvold, Marketing Coordinator
[email protected]
608-285-6600 ext. 109
1-888-207-1109 Toll Free
For Immediate Release
Netconcepts finds Write Niche for Web Authority, P.J. Fusco
Renowned author and search expert to join Web development agency
MADISON, WI (September 20, 2006) â?? P.J. (Patricia J. Fusco), established best-practice Web authority and author for ClickZ.com, joins Netconcepts as Lead U.S. Search Consultant and online marketing strategist.
Netconcepts, a global Web technology company specializing in natural search optimization consulting and search-friendly E-Business design, welcomed Fusco in early September. Itâ??s rare that a search engine optimization (SEO) agency can land someone with Fuscoâ??s quality experience.
For Fusco, it all goes back to developing her first search engine marketing program for web hosting clients back in 1996-97. Working for JupiterMedia, in 1998, put her in SEO boot camp with Danny Sullivan. Fusco then began doing in-house SEO for JUMP, the previous owner of Search Engine Watch, Click Z, and SES.
â??Netconceptsâ?? dedication to providing and delivering only best practices to clients is what sets Netconcepts apart from other search engine optimization (SEO) companies,â?? stated Fusco
A veteran of the online publishing industry, Fusco served as SEO Manager for JupiterMedia – a network of more than 120 Web sites that included Internet.com, Earthweb.com, and Graphics.com. More recently, she served as Search Engine Marketing (SEM) Manager for an international health and beauty dot-com corporation with more than $1 billion in annual E-commerce sales.
Fusco added, â??Netconceptsâ?? has experienced tremendous growth over the past 6 months and their enthusiasm is visible in their client services. I was impressed with the caliber of Netconceptsâ?? work, especially in their success with Cabelaâ??s and Discovery Communications.â?? Now a part of the Netconceptsâ?? Search Team, she will serve as client counsel on the latest online marketing plans and best practices for SEO strategy.
â??Fusco joins our team with a great reputation in the industry, and with her SEO background, she will make an impressive addition to our valued team,â?? stated Brian Klais, VP of Search for Netconcepts.
Fusco speaks about industry trends at Search Engine Strategies (SES) conferences, which helps keep clients informed about search engine marketing and optimization issues. She is also a columnist for ClickZ.com, sharing her experience and insight with the online public as a search engine marketing authority. She continues to write for ClickZ.
***
About Netconcepts, LLC
Founded in 1995, Netconcepts is a Web technology company specializing in natural search optimization consulting, including the industry's only performance-based Proxy Optimization TM Service. Netconcepts offers search-friendly E-Business design and development services for such successful retail brands as Discovery Communications, Northern Tool, Home Shopping Network, Kohlâ??s Department Stores, REI, and Cabela's among other brands. Netconcepts has offices in Madison, Wisconsin and Auckland, New Zealand.
###
Comments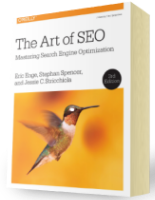 Chapter 7:
Content Marketing
From the fundamentals of link building to the nuances of natural linking patterns, virality, and authority.
Get Free Chapter