News Release: Netconcepts New Location
Contact: Boone Sesvold, Marketing Coordinator
[email protected]
608-285-6600 ext. 109
1-888-207-1109 Toll Free
For Immediate Release
A New Direction for Global Web Technology Localsâ?¦ Literally
Netconcepts Expands to New Location, Triples Office Space
MADISON, WI (April 4, 2006) â?? Working with leading retailers, Netconcepts is expanding in more ways than one.
The Madison-based global firm specializing in search engine friendly E-Business, website development, and natural search optimization, is on the move. Literally.
In just three years, Netconcepts has already outgrown its former location on the east side of Madison. The firm recently moved into the 7300 square foot new office space at 2820 Walton Commons West, Suite 123, Madison, Wisconsin 53718.
â??We measure our success in the success of our clients, so it is extremely important to do all we can to exceed the needs of those clients,â?? said Gene A. Wright, VP of E-Business for Netconcepts. â??â??The expansion allows us to meet the growing needs of our clients while at the same time providing us with the needed space as we continue to grow our staff.â??
With the growth into the new location, Netconcepts will continue to increase their staff, providing additional opportunities to further strengthen and develop client relationships.
â??Each client is unique but a mutual loyalty grows as both new and existing clients continually do business with Netconcepts,â?? Wright said.
As Netconcepts has experienced steady growth with 43 employees worldwide, the global company continues to largely influence high search engine visibility and increased sales for many big name companies such as Northern Tool, Home Shopping Network, Kohlâ??s Department Stores, REI, and Cabelaâ??s among others.
***
About Netconcepts, LLC
Founded in 1995, Netconcepts is a Web technology agency specializing in natural search optimization consulting, including the industry's only performance-based Proxy Optimization TM Service. Netconcepts offers search-friendly E-Business design and development services for such retail brands as Northern Tool, Home Shopping Network, Kohlâ??s Department Stores, REI, and Cabela's among others. Netconcepts has offices in Madison, Wisconsin and Auckland, New Zealand.
###
Comments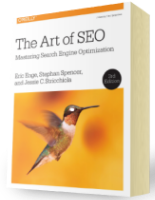 Chapter 7:
Content Marketing
From the fundamentals of link building to the nuances of natural linking patterns, virality, and authority.
Get Free Chapter