News Release: Netconcepts leaders speaking at Shop.orgâ??s Annual Summit
Agency Contact
Curtis Sparrer
Connecting Point Communications
[email protected]
415-442-4034
Netconcepts leaders speaking at Shop.orgâ??s Annual Summit
Speeches coincide with the release of companyâ??s Top Five Online Tips for Consumers
Madison, WI and Las Vegasâ?? September 16, 2008 â?? Netconcepts, the leader in natural search marketing, today announced company President Stephan Spencer and Vice President of Search Brian Klais are scheduled to speak at Shop.orgâ??s Annual Summit in Las Vegas. Shop.org, a division of the National Retail Federation, is the world's leading membership community for digital retail companies. The Summit is featuring educational sessions and keynotes from retail leaders, September 15 â?? 17.
Spencer is hosting two sessions at the Summit, September 16th. He is set to discuss, â??Natural Search Tactics for the Retailer,â?? from 1:00 – 2:15 PM local time and then from 3:30 – 4:30 PM, he will discuss, â??So You Think Your Site Can Dance? SEO vs. Branding and Conversion.â??
Klais is speaking about the â??24+ Specific Things You Can Do To Make More Money Next Week,â?? Wednesday, September 17, 1:15 – 2:30 PM.
The speeches from Netconceptsâ?? leaders coincide with its release of its Top Five Online Shopping Search Tips for consumers. Netconcepts helps online shoppers by making sure the brands they are looking for are on the top of their search results. Netconcepts clients include such retail brands like Ralph Lauren, LL Bean and Cabelaâ??s among many others.
â??Online shoppers are offered millions of choices when they want to buy something,â?? said Klais. â??We wanted to give them the benefit of our years of experience in helping the nationâ??s best online retailers. Our job is to make sure online shoppers can find whatever they want online by typing in the product attributes they care about the most.â??
According to Klais, these are the Top Five Online Shopping Search Tips:
Trying to find a product within a certain price range? Use two periods â??..â?? to search Google for a numerical range. (Ex. LG LCD TV $500..$700)
Trying to find the same product in different colors or sizes? Add an uppercase â??ORâ?? to your search. (Ex. Cabela's Socks Wool OR Cotton)
Trying to find an alternative to an item you found online? Use the tilde symbol â??~â?? before your keyword to search for similar items and alternatives to your search. (Ex. ~Allen-Edmonds-Shoes)
Is Google returning unwanted results? Use the minus symbol â??-â?? to exclude certain sites or keywords from the results. (Ex. Skechers Running Shoes -Zappos)
Trying to find a CD? Start your search with â??music:â?? followed by the artist, song title, or album to get the latest reviews. (Ex. music: Foo Fighters)
About Netconcepts, LLC
Netconcepts, the leading provider of natural search marketing, offers automated natural search technology and value added services tailored to help retailers drive online sales. For the largest retail brands, Netconceptsâ?? GravityStream solution is an award winning, patent pending SaaS technology that powers the natural search channel. GravityMarket is a comprehensive eBusiness solution for mid-market retailers. Founded in 1995, the company is based in Madison, Wisconsin with R & D facilities in Auckland, New Zealand. Netconcepts serves retail brands such as Skechers, Northern Tool, BNET (a division of CNET), Allen Edmonds and Cabela`s among others. For more information, visit the company Web site at www.netconcepts.com.
###
Comments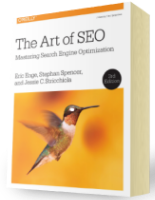 Chapter 7:
Content Marketing
From the fundamentals of link building to the nuances of natural linking patterns, virality, and authority.
Get Free Chapter