News Release: Long Tail Dynamics
Contact: Boone Sesvold, Marketing Coordinator
[email protected]
608-285-6600 ext. 109
1-888-207-1109 Toll Free
For Immediate Release
Lost Shoppers Found by E-retailers Using Long Tail Dynamics
MADISON, WI (December 21, 2006) Lost shoppers are being found through unbranded keyword searches by the e-commerce clients of Netconcepts, a global Web technology company specializing in natural search optimization consulting and search-friendly E-Business design. Netconceptâ??s clients are increasing their e-retail traffic through natural search optimizations that donâ??t depend on â??brand nameâ?? keywords.
Netconcepts released a white paper last month, â??Chasing the Long Tail of Natural Search,â?? which details the dynamics of the long tail phenomena and how e-commerce marketers can capture unbranded keyword searches. The study reveals the compelling truth that the unbranded market opportunity is 40 times richer than branded searches.
â??Chasing the Long Tail of Natural Searchâ?? provides a framework to help merchants answer questions such as: how to capture this market, what type of traffic they should anticipate, and how to estimate the â??unbranded keywordâ?? market potential. The white paper is available at no charge on the companyâ??s website.
â??Consumers searching the Internet for products frequently know what they want to buy, but donâ??t include any particular brand in their search query. They often enter basic keywords such as 'athletic shoes' or 'gift baskets,'" said Brian Klais, Vice President, Search. â??For the average merchant we studied, there are roughly 7,000,000 unbranded keyword searches conducted per month. To capture these searches, we work with our clients to optimize their websites using long tail dynamics and a new set of key performance indicators (KPI). Our white paper details the concept of the long tail and provides the who, what, where and why this is important to marketers.â??
***
About Netconcepts, LLC
Founded in 1995,
Netconcepts
is a Web technology company specializing in natural search optimization consulting, including the industryâ??s only performance-based Proxy Optimization TM Service. Netconcepts offers search-friendly E-Business design and development services for such successful retail brands as Discovery Communications, Northern Tool, Home Shopping Network, Kohlâ??s Department Stores, REI, and Cabelaâ??s among other brands. Netconcepts has offices in Madison, Wisconsin and Auckland, New Zealand.
###
Comments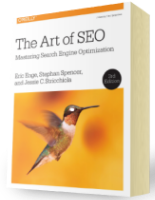 Chapter 7:
Content Marketing
From the fundamentals of link building to the nuances of natural linking patterns, virality, and authority.
Get Free Chapter