News Release: Fran Nahabedian Joins Netconcepts
Agency Contact
Bill Arnovich
Misukanis & Odden
[email protected]
952.400.0342
For Immediate Release
Search Engine Marketing Firm Netconcepts Welcomes New E-Business Account Director
New hire will drive online sales success of Netconceptsâ?? clients as part of team supporting customizable ecommerce solution, GravityMarket
Madison, WI, May 9, 2007 â?? www.netconcepts.com â?? Netconcepts, the premier natural search firm enabling a leading tier of the top 200 Internet Retailers to â??get foundâ?? online, is proud to welcome new team member, E-Business Account Director Fran Nahabedian to its Madison, WI office.
Nahabedianâ??s role with Netconcepts will be focused on driving the success of their E-Business client base. In so doing, she will be shaping the future development of Netconceptsâ?? customizable ecommerce solution, GravityMarketâ?¢.
GravityMarket, a powerful online retail management platform, is designed to provide retail owners a competitive edge as they grow their online business. Its features, such as a streamlined checkout process, has already helped firms such as billiards retailer PoolDawg increase their online sales exponentially.
A powerful solution like GravityMarket requires a powerful team to support its maturation. Nahabedian is perfectly suited to join such a team, as she brings a wealth of ecommerce experience to this vital new role.
Most recently, she was the owner and consultant for InMarket Results, LLC. Prior to that, Fran was Director of Marketing for Berbee Information Systems and Director of E-Business Marketing for Budget Rent a Car.
â??Itâ??s an honor to be working for Netconcepts, a firm as dedicated to ecommerce success as I am personally,â?? states Nahabedian. â??Combining GravityMarketâ??s robust ecommerce features with our strategic online marketing services will enable our clients to achieve greater online successâ??.
"We at Netconcepts are proud to welcome Fran to the GravityMarket team," states Jody Hartwig, Netconceptsâ?? VP of Client Services. " Fran brings with her a great deal of experience in the field of ecommerce and we are confident that her added vision will be driving our clientâ??s success for years to come.â??
About Netconcepts, LLC
Netconcepts® is committed to arming top Internet retailers with online strategies and technology platforms designed to increase online sales. With proprietary technology and services including GravityStreamâ?¢ and GravityMarketâ?¢, online retailers will "get found" in the search engines. Online retailers succeeding with the aid of Netconcepts, include Discovery Communications, Northern Tool, Home Shopping Network, Kohl's Department Stores, REI, Van Dyke Supply, and Cabela's among other brands. Netconcepts is based in Madison Wisconsin with a production facility in Auckland, New Zealand.
###
Comments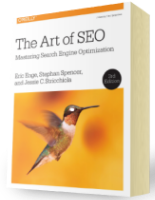 Chapter 7:
Content Marketing
From the fundamentals of link building to the nuances of natural linking patterns, virality, and authority.
Get Free Chapter