News Release: 2005 Holiday Trends
Contact: Boone Sesvold, Marketing Coordinator
[email protected]
608-285-6600 ext. 109
1-888-207-1109 Toll Free
For Immediate Release
The Hottest 2005 Holiday Trends for
General E-commerce Search Traffic:
Where did consumers go?
MADISON, WI (February 13, 2006) â?? When Internet consumers went looking for their last minute 2005 holiday gifts, who did they turn to? The answer, as you might have guessed, is Googleâ??s search engine. In fact, according a recent study conducted by Netconcepts, nearly 85 percent of people used Google for their general online searches. MSNâ??s search engine secured second place with just under 7 percent of the search engine market. AOL, Yahoo, and Netscape fill out the top five search engine spots.
The study by Netconcepts, a market leader in search technology, found that general holiday search traffic to major retail e-commerce sites may be more predictable than previously thought. Their study included holiday (November 16 to December 31) research with over 45 major retail search clients of 2005 using Netconceptsâ?? Proxy OptimizationTM search solution.
â??In addition to Google being the most used search engine in 2005, they actually increased e-commerce referral usage by over 4 percent during the 2005 holiday season,â?? said Brian Klais, Vice President of E-Business Services, Netconcepts. While other search engines remained relatively stable, studies show that MSN was virtually the only one affected by Googleâ??s increase. MSN saw their overall piece of the search engine pie decrease by nearly the same 4 percent.
The holiday E-Commerce phenomenon known as â??Cyber Mondayâ?? made news headlines in 2005. However, the findings show that â??allâ?? Mondays are big E-Commerce days. Surprisingly, Saturday claims the least general search activity, suggesting that most searches are done from the office on company time.
The study also concluded that the number of general visitors per recognized Web page more than doubled during the 2005 holiday season. In addition, the study showed that the general search traffic also increases by the same amount. This resulted in an over 200 percent increase in general search traffic during the 2005 holiday season.
***
About Netconcepts, LLC
Founded in 1995, Netconcepts is a Web technology agency specializing in natural search optimization consulting, including the industry's only performance-based Proxy OptimizationTM Service. Netconcepts offers search-friendly E-Business design and development services for such retail brands as Northern Tool, Home Shopping Network, Kohlâ??s Department Stores, REI, and Cabela's among other brands. Netconcepts has offices in both Madison, Wisconsin and Auckland, New Zealand.
###
Comments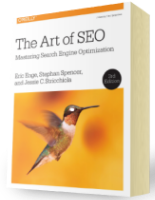 Chapter 7:
Content Marketing
From the fundamentals of link building to the nuances of natural linking patterns, virality, and authority.
Get Free Chapter