New tricks for Old Pueblo
In this article on Multichannel Merchant, Netconcepts founder and President Stephan Spencer sits down with Amy Africa to review Old Pueblo Traders, an eCommerce clothing site. Stephan's contribution discusses key concepts in SEO like this one:
In my brief tour of Oldpueblotraders.com, I found plenty of opportunities for major traffic gains through search engine optimization. The first one became immediately obvious as I was loading the home page. Directing my Web browser to load http://www.oldpueblotraders.com/, I was immediately redirected to http://www.oldpueblotraders.com/pagebuilder/.

Unfortunately, the type of redirect used was a temporary one (302) instead of a permanent one (301). I discovered this through the use of a server header checker (http://www.webrankinfo.com/english/tools/server-header.php) A 301 redirect passes PageRank and link popularity to the destination URL, whereas a 302 redirect does not. Luckily, this is an easy thing to fix.
For more about this eCommerce website audit, visit the original article on Multichannel Merchant here.
Comments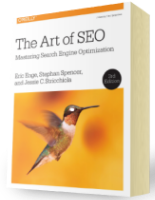 Chapter 7:
Content Marketing
From the fundamentals of link building to the nuances of natural linking patterns, virality, and authority.
Get Free Chapter