My first screencast: installing and using the Google Toolbar
I've produced my first screencast, using TechSmith's excellent software program Camtasia Studio. In it I show how to install and configure the Google Toolbar in the Firefox web browser to display PageRank scores on any web page that you visit. I also show how to change the display of the Toolbar and some other settings. If you don't have the Google Toolbar installed on your PC or Mac, this little 6 minute video will show you the process along with some of the benefits.
I'd love feedback on how to improve my screencasting. I intend to do quite a few more of these, so feedback early on will help ensure that these screencasts are the best they can be.
Note that I will be providing beginner, intermediate, and advanced level SEO tips and tricks. This particular one is beginner level.
Download the screencast as either a 5 megabyte WMV file or a 6 megabyte MPEG-4 file (iPod video compatible)
Comments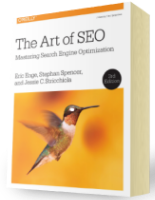 Chapter 7:
Content Marketing
From the fundamentals of link building to the nuances of natural linking patterns, virality, and authority.
Get Free Chapter