Live from ACC: Power Forum Packs a Punch
This week at the annual ACCM conference in Orlando, FL, attendees gained a marketers share of Web insight at the Annual Catalog Conference's power forum and brunch. Moderated by Sherry Chiger, editorial director, Multichannel Merchant, panelists Stephan Spencer, founder and president of Netconcepts, Ken Burke, president/CEO of Market Live, and Amy Africa, president of Creative Results shared their wealth of search engine expertise.
â??Catalogers need to understand how to get beyond data smog, quickly and painlessly.â?? stated Spencer. â??Quantity is not the game here, itâ??s quality.â??

Spencer went on to discuss the importance of establishing report with your customers; keep them interested and involved. Home page and shopping cart abandonment are serious issues that need to be addressed. â??People buy from people,â?? he said. â??Blog on your site. Try to personalize even your shopping-cart abandonment e-mails.â??
Read this entire article to learn more about upcoming online marketing trends, how RSS feeds can fuel return shoppers, and much more.
Comments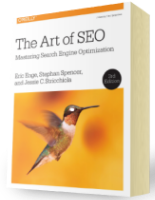 Chapter 7:
Content Marketing
From the fundamentals of link building to the nuances of natural linking patterns, virality, and authority.
Get Free Chapter