Defending yourself against the blogs
Tim Parry, author for Multichannel Merchant, discusses the dark-side of the Blogosphere. Links, community, and sharing are all great aspects of Blogging. However, slander and company wrong-doing, when blogged about, can have severe consequences.
Parry turns to Founder and President of Netconcepts, Stephan Spencer for best practice advice on the blogosphere. Spencer contributes 5 Tips for Beginning Bloggers. These tips include:
1. Starting your blogging experience with an internal blog posted on a company intranet rather than initially sharing on the World Wide Web.

2. Choose an appropriate Domain name that you will be happy with, now and in the future. It is important to establish your presence on the Web and secure your tenure.

3. Use an easily customized and scaleable blog content management system (CMS). You will inevitably need to make changes and additions. Choose a CMS you will be able to maintain.

4. Remember to post frequently. Continual postings with build your reputation in the Blogosphere. This may even mean keeping a tight schedule of which days you will post.

5. Establish a report with your peers in the Blogosphere. Communicate with them, run in their circles, and comment on their sites. Keeping up relations is a great way to build your "Street Cred."
Read this entire article and learn additional Blogosphere best practices and saving grace suggestions from Parry.
Comments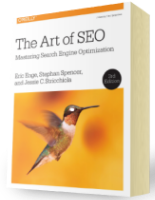 Chapter 7:
Content Marketing
From the fundamentals of link building to the nuances of natural linking patterns, virality, and authority.
Get Free Chapter