Interview with PoolDawg for PRWeb
This interview is with PoolDawg and Jody Hartwig, Netconcepts' Vice President of Client Services for PRWeb. PoolDawg is a Netconcepts' client whose goals were to embrace organic search.
â??As a newer company in an established market, it was extremely important to get a jump start on our search engine listings,â?? says Mike Feiman, Director of Marketing for PoolDawg.com.
After successfully implementing Netconcepts' recommendations, PoolDawg has experienced a 300% increase in search engine traffic.
Listen to the interview for an amazing success story!
Comments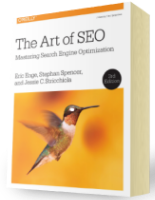 Chapter 7:
Content Marketing
From the fundamentals of link building to the nuances of natural linking patterns, virality, and authority.
Get Free Chapter