In House: Training the Company on SEO
In-house SEO isnâ??t easy, and often short staffed. In this session, youâ??ll learn how to bring in an SEO novice and work with the entire development team to help you execute SEO campaigns.
Moderator: Jessica Bowman, Founder, SEOinhouse.com
Speakers:
Rand Fishkin, CEO, SEOmoz
Dave Lloyd, Search Marketing Manager, Cisco
Stephan Spencer, Founder & President, Netconcepts
Time:
11:30am-12:30pm (1 hr)
Comments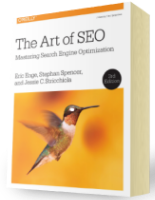 Chapter 7:
Content Marketing
From the fundamentals of link building to the nuances of natural linking patterns, virality, and authority.
Get Free Chapter