If Website Is Broke, Don't Go Broke Fixing It
Traffic down? Conversions starting to wane? It could be any number of SEO issues. Finding free online tools to hone search optimization for an ecommerce site can be tough. There are a lot of them out there, often promotional in nature, and they offer varying degrees of features and reliability. Some spit out data that is simply erroneous and applying this sort of information to website design can be useless at best and deadly, in Internet terms, of course, at worst.
In this article originally published on Practical eCommerce Jeff Muendel, Search Analyst for Netconcepts, writes about Aaron Wall's Website Health Check tool, a beneficial "free" SEO tool that offers easy-to-read, uncomplicated reports on a number of issues that includes missing title tags and meta descriptions to checking for duplicate content and verifying your error pages are returning the correct code.
Jeff also recommends some of Stephan Spencer's previous articles for more SEO tool information and suggestions "on developing an SEO toolkit, Google Webmaster Tools, and SEO: Tools For Link Building."
Comments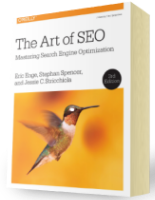 Chapter 7:
Content Marketing
From the fundamentals of link building to the nuances of natural linking patterns, virality, and authority.
Get Free Chapter