Harness the Power of GravityStream
GravityStream, a high-performance platform for natural search marketing, is the power behind natural search for some of the largest and most pervasive ecommerce brands on the web. As the only automated natural search optimization solution, its precision-based results allow you to optimally merchandise your products through the search engines, increase your visibility, and create the kind of traffic that sells.
Learn more about gravitystream.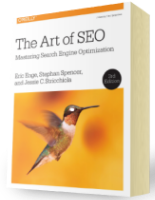 Chapter 7:
Content Marketing
From the fundamentals of link building to the nuances of natural linking patterns, virality, and authority.
Get Free Chapter