Download
Covarioâ??s Google Keyword Annualizer spreadsheet is free for you to download and use as you wish.
*NEW feature:* now includes monthly calculated demand numbers by month, by keyword.
Writing about or just enjoy this tool?
We would appreciate a link back to this page with the following link text: "Google Keyword Tool Annualizer."
– Thank you.
Notes and new versions will be added here for any updates made. Read more below for details.
Description
Keyword data is at the foundation of SEO. Not only does it help to understand the phrases that a site may want to target and optimize for, it can identify topics to create content around, aid in link building, and may even help identify new product or service opportunities.
Along with leading keyword research databases like Keyword Discovery (http://www.keyworddiscovery.com/) and Wordtracker (http://www.wordtracker.com/), Googleâ??s AdWord Keyword Tool (https://adwords.google.com/select/KeywordToolExternal) has become a popular option. Googleâ??s data still represents a large portion of demand data that we feel can be used as a good representation across all engines and searchers, even though the data is limited to Google and may include more than just search data.
Google provides a valuable insight into data, but doesnâ??t always connect all of the dots. However, when itâ??s free, we canâ??t complain too much. The Google Keyword Annualizer helps to connect some of those important dots and provide an extra layer of data refinement.
The Google Keyword Annualizer is an Excel spreadsheet tool (not connected with Google, AdWords, Microsoft or Excel) that can be used along with the Google AdWords Keyword Toolâ??s data export. By importing the data, the spreadsheet automatically calculates annualized local search demand numbers, allowing the data to be resorted based on the annualized calculation.
The spreadsheet includes some example data and instructions. Most important thing to note is that you need to select to show the â??Search Volume Trendsâ? column of data, which provides the monthly breakout used with the export to calculate the annualized search demand.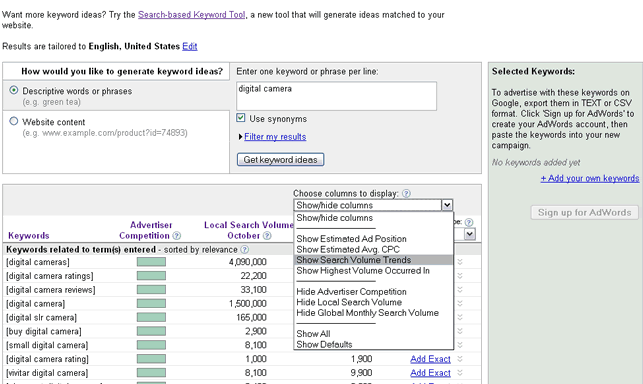 Easiest way to bring in the data is to open up the CSV export and copy and paste the data or entire columns, then paste (or paste as values) into the Annualizer spreadsheet. The annualized demand data will be calculated automatically.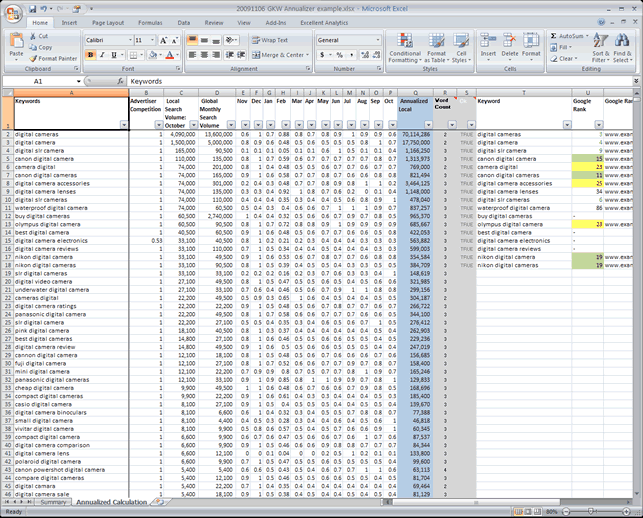 Youâ??ll end up with something like what you see above. Note this also includes some examples of also bringing in keyword ranking data. If you want to incorporate the ranking data, you should also remove the brackets around the first columnâ??s (A) keywords if you used the exact match criteria.
As you can see below, the data ranked based on the Local Search Volume is related to the most recent month of data. This may result in a number of phrases being weighted equally.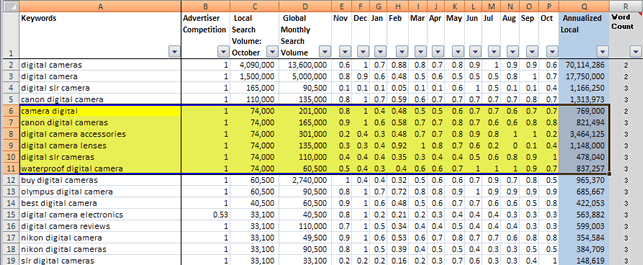 The highlighted rows all represent words that have been given an October demand number of 74,000. Perhaps all of these phrases are important and will be used for optimization. However, as you can see below, they may be prioritized differently based on the annualized demand, and other phrases that were ranked lower down the list based on one monthâ??s data may rise higher in importance.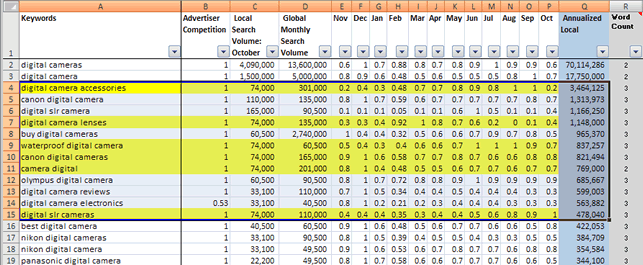 While the order may match up closely to the Global Monthly Search Volume numbers, there may be times when the Annualized order may vary. Regardless of which numbers you use, or the match criteria used, it is important to remember that the focus is on the relation between keyword phrases. The individual numbers may vary from actual or total search demand or from the traffic you may see or expect to see.
Covarioâ??s Google Keyword Annualizer spreadsheet is free for you to download and use as you wish. You can download it here in either the Excel 2007 version or the older Excel â??97-2003 version. Notes and new versions will be added here for any updates made