Google Goes to School
"As earlier reported this year, Google launched a premier edition of Google Apps which included email service, calendars, SSO services, instant messaging, spreadsheets, and more. One interesting detail of their recent promotions of Apps is how they're pushing this out to schools, in both free and paid "premier" service options," writes Chris Smith, lead GravityStream strategist for Netconcepts. In this article, Chris draws the connection between Google Apps and Microsoft Office, and how the education sector is impacted by both financially.
Who might win the long-term fight over office applications and how do colleges play into the battle? Read the article here and find out.
Comments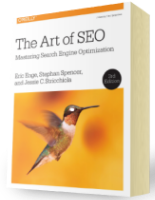 Chapter 7:
Content Marketing
From the fundamentals of link building to the nuances of natural linking patterns, virality, and authority.
Get Free Chapter