From Good to Great Content
"In SEO, what's the difference between good content and great content?" states P J Fusco, lead strategist with Netconcepts. Both are a win win right? Wrong. Good content makes your site visible to search engines, but the inspiration ends there. Search engines love good content — but Users love Great content. Great content engages the visitor to read further, subscribe, purchase, etc. Creating great content does not come easy.
However here are a few tips and tricks to put you on the right path to increased visitor conversion… 24roids.com
Comments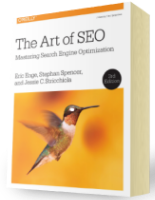 Chapter 7:
Content Marketing
From the fundamentals of link building to the nuances of natural linking patterns, virality, and authority.
Get Free Chapter