Five Getting-Started Blog Questions
Do you want add a blog for your business but have no idea how to get started? In this article written by PJ Fusco, lead strategist for Netconcepts, she covers the common questions online retailers have as they think about the benefits and drawbacks of joining the blogosphere and offers her expertise.
One of the questions she covers is: Will blogging really help?
If the blog is optimally created and maintained, with a transparent, sincere voice and a commitment to using it to build relationships as well as links, then, yes, it will help. How much? That depends on how much the company is willing to invest in developing relationships with customers and prospects in the blogosphere. The only time blogging can really hurt is if the bloggers are insincere and dishonest and ignore their audience, or if your company has a god-awful online reputation in the first place. If you're in a war of attrition over your company's online reputation, it's going to take a heck of a lot more than a simple blog to fix the mess you're in.
For more about this topic, visit the full article about getting started in blogging at ClickZ.
Comments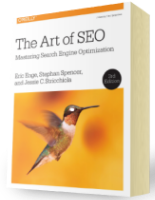 Chapter 7:
Content Marketing
From the fundamentals of link building to the nuances of natural linking patterns, virality, and authority.
Get Free Chapter