Eleven steps to buying a domain name that doesn't suck
Do you know how to buy an SEO-friendly domain name? "Whether you're a multinational Internet retailer or a lone human just entering the Web world, there are many things to consider when purchasing a new domain name, not the least of which are core SEO (search engine optimization) parameters," writes Stephan Spencer, President and Founder of Netconcepts. In this article on C|Net's Searchlight: An SEO Blog, Stephan gently reminds, teaches, and highlights some of the more important aspects to consider when buying a domain name. You can read the "11 Steps" here.
Comments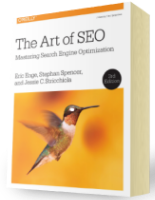 Chapter 7:
Content Marketing
From the fundamentals of link building to the nuances of natural linking patterns, virality, and authority.
Get Free Chapter