Ecommerce Websites Critiqued at Internet Retailer Show
This year's Internet Retailer show had increased attendance of 25% more. The show included a panel that netconcepts Founder & President Stephan Spencer participated in. Along with consultants Lauren Freedman, president of The E-Tailing Group, and Amy Africa, president of Eight by Eight, the three reviewed websites for SEO opportunities. Two common issues that were found were long URLs and redirects which can be confusing to users and search engines. The session was jam-packed and received rave reviews.
Comments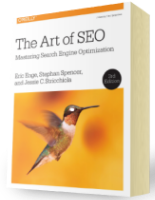 Chapter 7:
Content Marketing
From the fundamentals of link building to the nuances of natural linking patterns, virality, and authority.
Get Free Chapter