Ecommerce Blogging: Who, What And When
If you've even remotely considered adding a blog for your eCommerce site, then this article is for you. In this article originally featured on Practical eCommerce, Jeff Muendel helps eCommerce business owners design a strategy behind blogging.
A focused, well-written blog can get readers hooked on the blog and promote repeat visits to the website or garner subscriptions via RSS feeds and email newsletters. These recurring communications will help to tie potential customers to your site, encourage natural link building and increase repeat visits. Journalists are also more likely to follow a blog or subscribe via RSS than to visit the corporate site repeatedly. So, several avenues of search optimization and online marketing can be addressed with a single blog entity.
From the SEO benefits of business blogging to how it can help your customers, Jeff covers the basics of "who, what and when" of blogging. Read the full article at Practical eCommerce here.
Comments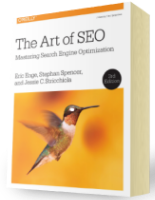 Chapter 7:
Content Marketing
From the fundamentals of link building to the nuances of natural linking patterns, virality, and authority.
Get Free Chapter