Blogs Go Corporate
In an interview with the Dominion Post, Netconcepts president Stephan Spencer says his blog about many things, including "blogging", also ties in closely with his company's work and helps generate business and publicity.
"When done well, a blog can help establish a reputation for thought leadership and provides a human face for your customers," he said. "People like doing business with people, not companies."
"Good blogs are straight from the hip. If they seem sanitised you get clobbered in the blogosphere," Stephan Spencer said.
He also said that a blog can improve your search engine rankings.
Comments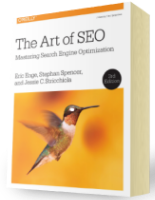 Chapter 7:
Content Marketing
From the fundamentals of link building to the nuances of natural linking patterns, virality, and authority.
Get Free Chapter