Domaining and Subdomaining in the Local Space – Part 2
In Part One of Domaining and Subdomaining in the Local Space, Chris Smith, lead GravityStream strategist for Netconcepts, delved deep into the difference between domaining and subdomaining, and focused his expert attention on the benefits and drawbacks to the practice of subdomaining.
For the conclusion of this two-part article, Chris writes about how "Domaining has been growing up as an industry, and is now focusing on designing sites for SEO and with real content for good usability."
From traffic and profitability to local space, read about domaining here so you can make a better assessment if this practice is good for your business.
Comments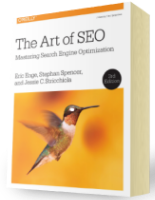 Chapter 7:
Content Marketing
From the fundamentals of link building to the nuances of natural linking patterns, virality, and authority.
Get Free Chapter