Ten Trends to Drive Traffic and Sales in 2007
Heidi Cohen, author for ClickZ, discusses the latest Advice & Opinions. By & for Marketers. In this section, Cohen gives high-level explanations for "Ten Trends to Drive Traffic and Sales in 2007."
At top if this list are "social media" outlets and proper "search marketing." Cohen gains input from Netconcepts' Founder and President, Stephan Spencer for his expertise on these trends.
Spencer first describes the importance of social networks and their key role in today's marketing. He goes on to explain the dynamics of search marketing and how companies will need to tap into the Long Tail of natural search if they want to seriously compete in the market place.
Read this entire article and learn 8 more ways to drive traffic and sales in 2007.
Comments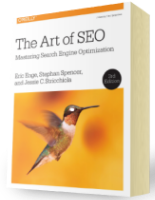 Chapter 7:
Content Marketing
From the fundamentals of link building to the nuances of natural linking patterns, virality, and authority.
Get Free Chapter