Chicken Soup for the SEO Soul
In this article originally written for ClickZ, Netconcepts Director of Natural Search Consulting PJ Fusco tackles some of the negative press that SEO has received recently. Her article addresses some of the reasons why SEO professionals get a bad rap. Simply many SEO professionals, even the ones who work here, at Netconcepts, can't discuss the successful results from client implementation strategies.
If you haven't had the luxury of working with an SEO expert who operates in complete transparency within the strictest current best practice guidelines, then you know that some SEO practitioners over-promise and under-deliver. That's why these critics have lambasted and lampooned our industry. Yes, they did throw out the baby with the bathwater to make a point, but the point remains.

One of the big problems the SEO industry faces is clients who won't allow us to name them publicly and discuss their results. We have one e-commerce client that's showing 39 percent growth in year-over-year organic search engine referrals. Natural search results are driving more traffic to its site than ever before.
PJ addresses this issue more in detail in her full article at ClickZ. To read the article, click here.
Comments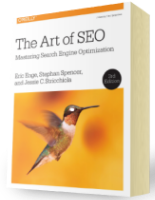 Chapter 7:
Content Marketing
From the fundamentals of link building to the nuances of natural linking patterns, virality, and authority.
Get Free Chapter