Chasing The Long Tail: Webinar
"Long Tail" Webinar: Sign Up
Netconcepts' latest research paper, "Chasing The Long Tail of Natural Search," has generated a buzz within the world of search engine optimization and E-Commerce. Our research offers a first hand look at actual long tail data taken from over 1,000,000 search terms from leading retail companies. This webinar, open to the public, will take place on September 7 at 11:00am CST. A special Netconcepts client webinar will premier one day earlier September 6 at 11:00am CST.
Leading this webinar will be Brian Klais, Vice President of Search for Netconcepts and author of "Chasing The Long Tail of Natural Search." Experience our latest webinar and be one of the first to fully understand the 'long tail' and make it work to improve your E-Business.
1) Discover how large your long tail sales opportunity really is — and how much you
      may be missing
2) Learn how multichannel merchants are leveraging their brands into unbranded
     "long tail" keyword markets
3) Uncover the secrets of Page Yield Theory — and its power to exponentially grow
      your E-Commerce sales
Register now to attend this free webinar on September 7th! We will email your registration details as soon as they are released. Thank you.

                                  Sign Up Here.
 
  
Comments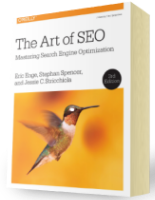 Chapter 7:
Content Marketing
From the fundamentals of link building to the nuances of natural linking patterns, virality, and authority.
Get Free Chapter