Chasing the Long Tail of Natural Search
According to new research by Netconcepts, your retail website may be missing the single largest opportunity that natural search has to offer â?? the long tail of unbranded keyword searches.
For every brand search, there are 40 non-brand searchesâ?¦
Is your â??long tailâ? hiding from you?
Learn more about the Long Tail of Natural Search.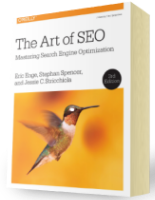 Chapter 7:
Content Marketing
From the fundamentals of link building to the nuances of natural linking patterns, virality, and authority.
Get Free Chapter