Strategies to Increase Traffic for Long-tail Keywords
After reading Netconcepts' latest white paper, Chasing the Long Tail of Natural Search, during the August eTail conference in Philadelphia, PA, Catalog Success Associate Editor, Matt Griffin. Griffin wrote this article.
Griffin discusses why the (over discussed, under explained) 80/20 rule has such validity on search engine marketing of today's business. He also summarizes Netconceptsâ?? key tactics to capturing the Long Tail of Natural Search.
Read this entire article and broaden your thinking of current Long Tail research.
Comments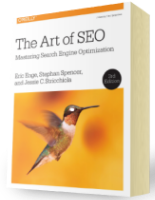 Chapter 7:
Content Marketing
From the fundamentals of link building to the nuances of natural linking patterns, virality, and authority.
Get Free Chapter