Seeking Search Engine Optimization
An analysis by Netconcepts of 99 websites on the Catalog Age 100 revealed search engine optimization wasn't a top priority for marketers.
The report titled "The State of Search Engine Cataloging" showcased the results of an analysis against 40 top criteria that influence search engine unfriendliness.
According to Stephan Spencer, President of Netconcepts and Brian Klais, Vice President of EBusiness at Netconcepts: "The vast majority of sites analyzed had sizeable chunks of their site inaccessible to search engine spiders, mostly due to search engine unfriendly dynamic URLs and navigation based on Java, JavaScript or Flash."
Netconcepts' research also revealed:
* 24% of the sites used frames which can be difficult for search engines to spider
* 74% of the sites surveyed had home pages made up predominantly of graphics
14% used pop-up boxes
6% practiced keyword stuffing, a tactic that will get you banned or punished by the search engines.
Only 6% of catalogers were using H1 tags which were key to higher search rankings.
Comments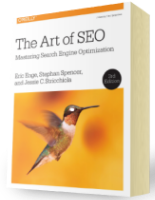 Chapter 7:
Content Marketing
From the fundamentals of link building to the nuances of natural linking patterns, virality, and authority.
Get Free Chapter