Can Big Brands Own "It"
In this article for ClickZ, Netconcepts' lead strategist PJ Fusco highlights how many big brands fail to grasp the relevance of unbranded search terms when determining an SEO strategy. She asks the big question: "What have you done to earn top natural search results for "it" (unbranded search results).
Too many big brands are putting up barriers to search engines crawling for unbranded search terms, she says. She goes on to suggest ways in which sites can be more search engine friendly.
Comments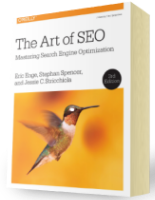 Chapter 7:
Content Marketing
From the fundamentals of link building to the nuances of natural linking patterns, virality, and authority.
Get Free Chapter