Cabela's Corporate Outfitter
This is a subsite of Cabelas.com. Netconcepts was commisioned to create a site that was both useable and search engine friendly. With a database of thousands of products, the h1, page title and meta tags are generated dynamically.This helps significantly with increasing visibility and page rank in search engines like google. A database driven website traditionally has long urls with stop characters like "?" which prevent the site from being spidered. A simple naming system for each product page has avoided this enabling the entire site to be spidered with short urls also being friendly to bookmarking.
Netconcepts also provides the branded subsites of Corporate outfitters like Stihl Corporate Outfitters and www.dunns.com.
[ database | client admin cms | SEO ]
Visit The Site: Cabela's Corporate Outfitter
Comments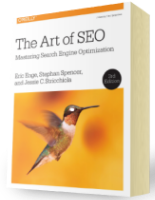 Chapter 7:
Content Marketing
From the fundamentals of link building to the nuances of natural linking patterns, virality, and authority.
Get Free Chapter