Adventures in Searchandising Part 3
In part one of this series about searchandising, PJ defined this term to set the stage for what this innovative concept is, how the search engines and online customers respond to it, and what retailers can do about it. Part Two described the effect of guided navigation and extreme pagination on the search engines.
As the finale of this three part series on searchandising, PJ Fusco offers her recommendations on how:
…you can enhance the contextual relevancy of critical category pages within a complex database-driven Web site by understanding what keywords and phrases drive your revenue. But you still need to contend with that wonky pagination scheme that's killing your crawl equity.
For more expert advice from PJ, lead strategist for Netconcepts, on this topic, visit the conclusion of this three part series on searchandising.
Comments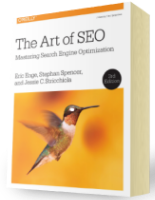 Chapter 7:
Content Marketing
From the fundamentals of link building to the nuances of natural linking patterns, virality, and authority.
Get Free Chapter