A Call to Standardize Local Search Listings
With the competition so rampant among the search engines and online directories, sometimes the opportunity to work with one another–in order to make things better for users–gets lost in the shuffle. Enter Chris Smith, lead GravityStream strategist for Netconcepts, who writes this article in order to shed light on a larger issue that is undoubtedly causing problems for small businesses in local listings.
Chris writes that, "It's really time for the local search and info directory industry to do something simple that would reduce time and expenses for local businesses while improving information reliability and availability for consumers."
Read more about this issue here, and learn how a few, simple standardized formats would benefit both local search listings and small businesses.
Comments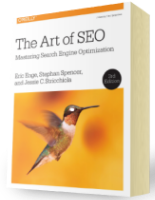 Chapter 7:
Content Marketing
From the fundamentals of link building to the nuances of natural linking patterns, virality, and authority.
Get Free Chapter