When Customers Take Their Problems to Online Forums: Doing Damage Control
If your customers are having problems with your products or services, and if an e-mail to your support desk and/or a visit to your web site don't give them immediate solutions, they will frequently turn to discussion forums (in the forms of e-mail-based "lists," Usenet "newsgroups," and Web site "virtual communities") for answers to vent their frustration.
Unfortunately for you, seldom are companies like yours ever "in control" of these online forums. The tide can quickly turn against your company; one solitary message triggering a flood of negative comments from disgruntled users. One doesn't even have to be "on the Net" to suffer the effects of negative branding on online communities. In one of the most powerful demonstrations of the influence that Usenet wields over large corporations, the "Pentium bug" PR fiasco stemmed from a college
math professor's posting to several discussion groups that he discovered a calculation flaw in Intel's Pentium chip.
Learn:
Proactive and reactive techniques for dealing with negative
posts
How innocent company postings can backfire
Participating vs. moderating
Post-Conference Workshop, September 17, 1999:
"Killer" Customer Service Over The Internet
This is the workshop you've been waiting for – a LIVE Internet connection so you can see what the buzz is all about, while an expert is Internet-based customer service explains what it all means! Customer service departments looking to "get on the Net" need to prepare for the opportunities, pitfalls, and competitive market niches that are being created in Cyberspace.
This in-depth, half-day workshop specifically designed for non-technical customer service and marketing professionals prepares you to more fully participate in the marketplace. Basic concepts, terms, practices, and directions will be clearly defined and demonstrated. A number of successful online customer service centers will be closely examined, as we analyze in detail the characteristics of their success. We'll illustrate exactly how these companies are creating satisfied customers and reducing operational costs. And most importantly, you'll learn in this interactive workshop how to apply those techniques to your own online customer service venture.
Demonstrations and discussions will include:
Auto-response email
Following up with personal email
Answering their questions before they ask them!
Frequently Asked Questions with answers
Getting customers to help each other: online discussion groups
Getting your data out there: online libraries of technical
specifications, ties with corporate system, (e.g. FedEx)
Putting it at their fingertips: using search engines and hierarchical indices
Personalized web pages and automated personal notification
services by e-mail
Get a jump on your competition and get the solid foundation you need to succeed in this exciting new customer service venue by joining us for this one-of-a-kind workshop!
Comments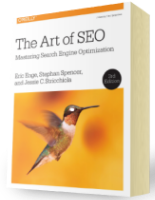 Chapter 7:
Content Marketing
From the fundamentals of link building to the nuances of natural linking patterns, virality, and authority.
Get Free Chapter