Turning Online Content, Consumers, and Competitors Into a Competitive Advantage
Birds Eye strives to find new and innovative ways to help consumers plan tonight's dinner (their primary marketing objective). To this end, we've taken some common online marketing strategies – content aggregation, virtual communities, and personalization – and applied them in rather unconventional (and, we're happy to say, successful) ways. We'll discuss how Birdseye:
Aggregates content through a Worldwide Recipe Search Engine
Personalizes content through a Personal Recipe Box and Personal Shopping List
Creates virtual communities through a Recipe Exchange
Comments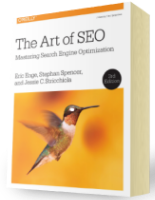 Chapter 7:
Content Marketing
From the fundamentals of link building to the nuances of natural linking patterns, virality, and authority.
Get Free Chapter