How And Why To Audit Your Web Site to Meet Your Corporate Objective (post-conference workshop)
Are you absolutely sure that your Website is running at peak efficiency, dazzling customers, coming up high in search engines, generating an adequate ROI, and not leaving you exposed to unnecessary litigation? Step-by-step, you'll learn what areas to audit in your Internet presence, including: Legal and procedural, Public Relations, Financial, Performance and Reliability, Customer Service, Internet Marketing Task Force, Technical user Experience, Accessibility, Content, Community, "Findability", e-Commerce, Privacy, Security and last but not least Y2K.
This interactive workshop will give you hands-on experience on:
Where and how to begin the evaluation process
What to audit and how often
Tools and resources to use in auditing
Benefits of auditing, risks of not auditing
Turning measurements and recommendations into an implementation plan
Applying all these tools and principals to your specific needs
Comments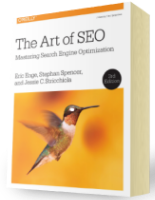 Chapter 7:
Content Marketing
From the fundamentals of link building to the nuances of natural linking patterns, virality, and authority.
Get Free Chapter