Strategies for Streamlining Online Customer Service
How can you get the most out of your online customer service? This extraordinary presentation will demonstrate a combination of both automated and self-regulating methods for providing customer service online. You will discover that you can significantly reduce your staffing costs with these techniques :
Auto-response email boxes
Frequently Asked Questions (FAQs) with answers
Integrating your FAQs with email responses
Email newsletters/announcements
Email-based discussion groups ("listservs")
Web-based discussion groups
Usenet-based discussion groups ("newsgroups")
Intelligent search engines for your web site (both keyword- and concept-based)
Online databases that can be updated automatically by your customers via the Web
Comments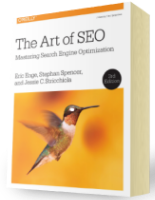 Chapter 7:
Content Marketing
From the fundamentals of link building to the nuances of natural linking patterns, virality, and authority.
Get Free Chapter