Internet Marketing for the New Millennium
Whether you have an established website or you're just beginning to think about one, this in-depth workshop will help you meet the new millennium head-on — with objectives, strategies, tactics, and measurable results, all in hand. Do you feel confident that your website is running at peak efficiency, dazzling customers, coming up high in search engines, generating an adequate ROI, and not leaving you exposed to unnecessary litigation?
Or, if you don't yet have a website, are you adequately prepared to develop a solid Internet marketing plan, assemble an Internet marketing task force, create a budget and timeline, and then bring the project in on time and on budget? This seminar will introduce you to powerful and effective tips, tools, and techniques for planning and executing an effective Internet presence.
Specifically, you will learn:
"Insider" information about other companies' online successes,
failures, and lessons learned
Unique Internet marketing strategies and tactics, applied
to your individual needs and situation
Brainstorming techniques and hands-on exercises that
will identify new opportunities
How to identify and benchmark (creatively imitate) innovative
marketing on the web
How to apply strategic planning, project management,
one-to-one marketing, frequency marketing, and customer
service to your online efforts
How to incorporate other aspects of the Internet besides
the web, such as email and newsgroups, into your Internet
strategy
Comments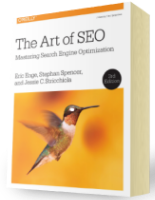 Chapter 7:
Content Marketing
From the fundamentals of link building to the nuances of natural linking patterns, virality, and authority.
Get Free Chapter