How to Build & Manage Communities, Aggregate Content & Personalize
There are many thousands of online communities in the forms of discussion groups conducted over email, Usenet, and the Web. At the most basic level, businesses need to be aware of where their company, products, services, or competitors are currently discussed and how they can conduct business effectively in these discussion groups. A proactive company could actually create discussion forums, influence the discussions, and leverage them to drive traffic to its site.
Online communities can be an invaluable source of fresh content for your site. After all, content is expensive to create, so why "grow your own" when you can leverage others' content? You can also apply strategies to incorporate content from other Web sites. Don't simply link to outside content, which drives traffic out your back door. Instead, incorporate that content into your site through a full-text, multi-site search engine. You can even take it a step further by partnering with other sites that will offer your search engine on their site with a co-branded interface.
Internet marketing is also about one-to-one marketing of value-added services and information to the Internet user. You can market most effectively on the Internet by catering to the individual through customization. Your Web site can change based on the user's buying and surfing habits, past usage of your site, demographics, relationship to your company, and a multitude of other attributes which you could collect from your users online or cull from your corporate legacy databases.
Catering to individual needs on a personal level fosters self-reliance and lowers support costs. Personalization also makes it possible to track visitors and correlate Web site usage data with customer profiles.
This in-depth, half-day workshop is specifically designed for non-technical marketing professionals. We will discuss:
Discussion groups, email listservers, Usenet newsgroups, Web discussion forums, and chat rooms.
Ways to participate in, moderate, and influence online communities
Results of how several companies carved out their own niche using search engine "spiders"
Ways to customize your site to individual users
How all this can affect your bottom line
Comments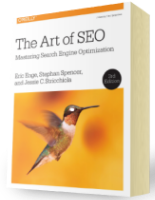 Chapter 7:
Content Marketing
From the fundamentals of link building to the nuances of natural linking patterns, virality, and authority.
Get Free Chapter