Content vs. Community
What's the "killer app" of 1999? Will online communities continue to be the rage or are they a passing fad? Is compelling content enough to keep users coming back? These questions and more will be posed to our distinguished panel of speakers, who will help us discern substance from hype. Their differing approaches will give us a "reality check" as we compare and contrast each panelist's strategies and the intended (and unintended) results.
Comments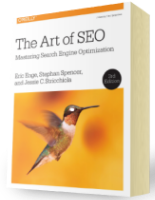 Chapter 7:
Content Marketing
From the fundamentals of link building to the nuances of natural linking patterns, virality, and authority.
Get Free Chapter