Profiling Your Customers Using the Internet
The Web can be a powerful tool for collecting detailed, up-to-date profile information about your customers and potential customers. There are many creative ways to tap in to various primary and secondary research sources. We'll discuss how INX:
Leverages customers, customers' sites, employees, research firms, and online knowledgebases
Compels users to profile themselves through online communities, personalization, and "Yellow Pages" directories
Expanded their profiling system into an extranet
Obtained, consolidated, and integrated multiple databases into their profiling system
Comments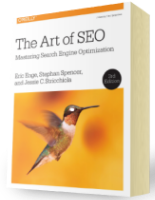 Chapter 7:
Content Marketing
From the fundamentals of link building to the nuances of natural linking patterns, virality, and authority.
Get Free Chapter