"Work the Web" to Build Your Brand (post-conference workshop)
Frustrated by all the less-than-innovative talk about how to build an Internet
presence "the right way"? Do you have a map for your Internet presence when
what you really need is a compass? Does your Internet presence need a "jump
start"? Then this in-depth, half-day workshop is for you! We will introduce
you to powerful and effective tips, tools, and techniques for planning and executing
an Internet presence.
Specifically you will learn:
"Insider" information about some major companies' online successes and failures,
and lessons learned
Unique cyberbranding strategies and tactics, applied to your individual
needs and situation
Brainstorming techniques and hands-on exercises that will identify new
opportunities
How to identify and benchmark (creatively imitate) innovative brand-building
on the Web
How to incorporate important ideas from strategic planning, project management,
one-to-one marketing, frequency marketing, and customer service into your
cyberbranding efforts
Presenters:
Stephan Spencer, President of Internet Concepts LLC and
Arlene Susmilch Mayne, Executive Producer at Terabyte Interactive Ltd.
Comments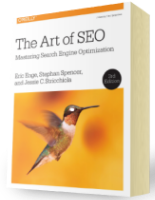 Chapter 7:
Content Marketing
From the fundamentals of link building to the nuances of natural linking patterns, virality, and authority.
Get Free Chapter