Using the Net for Competitive Intelligence
Knowing your competitors is as important as knowing your customers. And the Internet can be a powerful tool to obtain and disseminate late-breaking information about your competitor's products, services, pricing, customers, marketing strategy, etc. Your company's success depends on monitoring and searching your competitors' knowledgebases, expanding your own knowledgebases on your competitors, and serving disinformation to them.
search engine of competitors' sites on your intranet: collect and index the entire content of all your competitors' sites and assemble it under one search engine
competitor profiles and news: build and maintain realtime-accessible data warehouses with information obtained from the media, research firms, your employees, and even your competitors
monitoring of competitors' web sites with offline browsers: find out what's new and changed on the competitor's site before even their own employees do
counterintelligence on your web site: give your competitors the wrong information
Comments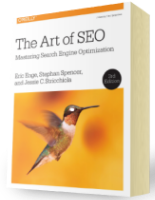 Chapter 7:
Content Marketing
From the fundamentals of link building to the nuances of natural linking patterns, virality, and authority.
Get Free Chapter