How to Develop A Winning Internet Marketing Plan: A Step by Step Approach
This half-day workshop details how to prepare and use an Internet marketing
plan. In essence, an Internet marketing plan is a systematic method for
the effective and efficient management of change (effectiveness means doing
the right things & efficiency means doing things right). At this workshop
you'll also learn the first concrete steps to take when starting your plan
and how to sustain your momentum.
Specifically you will learn:
What needs to go into your plan
Why your plan will have to be altered in light of new opportunities
How to benchmark (creatively imitate) how others have created their
Internet marketing presence
How the Internet marketing plan forces identification of important ownership,
control and team work issues
How to select among a set of "generic" Internet strategies to help you
accomplish objectives
How to take your Internet plan "off the shelf" and put it into action
How to incorporate other aspects of the Internet besides the Web, such
as e-mail & newsgroups, into your plan
Comments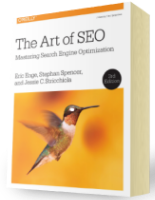 Chapter 7:
Content Marketing
From the fundamentals of link building to the nuances of natural linking patterns, virality, and authority.
Get Free Chapter