Personalizing Your Online Catalog
Customers are starting to demand an online catalog that takes into account their individuality as a customer. As such, the customer can efficiently navigate the catalog with the most relevant products brought to the forefront. This technology can also be used to offer special sales to individual users based on their profile.
We will discuss:
How to monitor and generate reports on customers' buying patterns, surfing patterns, industry, psychographics, etc.
rules-based personalization vs. collaborative filtering
the latest and best tools and examples of these tools in action
Comments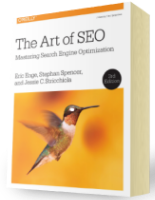 Chapter 7:
Content Marketing
From the fundamentals of link building to the nuances of natural linking patterns, virality, and authority.
Get Free Chapter