Internet Marketing (day-long developer day)
The Internet and the World Wide Web have caught everybody's attention. There is no question that marketing as we know it is changing into an automated, interactive, one-to-one operation. The World Wide Web is bringing this change faster than anybody expected.
On-line communication with your customers and prospects allows more direct feed-back than ever. Each phase of product development, positioning, and promotion can include the most intelligent, experienced, and expert resource on earth – your customers. They become part of your team. Imagine knowing how many people are reading your magazine ad. Imaging knowing which pages of your brochure people are looking at most. Imagine a survey that brings the answers to you at the speed of light. And this is just the beginning.
You have seen competitors get on the Web. You have heard customers asking if you have a Web presence. You may even be creating a Web site. If so, this seminar will give you the insights needed to meet your competitors head on, satisfy your customers and make the most of your efforts to stay ahead of the game.
Many companies are placing their electronic billboards on the Internet and wondering why the astonishing response tapers so quickly. Some incur the wrath of Internet citizens by ignoring Internetiquette and customs. Offering something of value to your prospects in return for their time is a vital part of on-line culture. You'll hear examples of how this is done well, and about the penalties for those who mishandle this medium.
This seminar zeros in on using the World Wide Web for marketing. We've distilled the avalanche of information for you. We've identified which techniques work, and which clash with Internet culture. When you come away from this seminar you'll understand how the Internet fits into your overall marketing mix. And you'll know how to get started.
What You Will Learn
How the World Wide Web works in non-technical terms
How to fit in with the Internet culture
What others are doing right and wrong
Which Internet obstacles to ignore and which to take seriously
How to create a solid Web marketing strategy
How to blend the Internet into your marketing mix
What resources are needed to build your own Web site
How to get people to come to your Web site
How to measure your success
What the Web will become in the future
The key secrets to building a rewarding Web site
Who Should Attend
Using the World Wide Web for marketing is a new endeavor. Marketing VP's need to understand this medium to better allocate resources. Marketing managers need to learn what Web strategies and tactics work. Web builders need to appreciate the infrastructure required to support an electronic presence.
Your Seminar Leaders
Jim Sterne and Stephan Spencer
Comments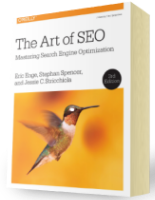 Chapter 7:
Content Marketing
From the fundamentals of link building to the nuances of natural linking patterns, virality, and authority.
Get Free Chapter