Advanced Usenet & Email Marketing
An often overlooked marketing opportunity on the Internet is Usenet and email. There are over 10,000 newsgroups, each one on a distinctly different topic. In addition, there are many thousands more discussion groups conducted over email. At the most basic level, businesses need to be aware of where their company, products, services, or competitors are currently or might in the future be discussed, and how they can conduct business effectively in these discussion groups.
A company can create newsgroups, moderate them, archive them on their Web site, and write FAQs for them. Being "first to market" with such services could provide you a great deal of visibility to your target audience, and best of all, will practically "lock out" your competitors. In this non-technical, information-packed session, you will learn about:
Discussion groups: on email "listservs", Usenet newsgroups, and the Web
Setting up a Usenet newsgroup
Moderated vs. unmoderated discussion groups
Driving traffic into your Web site with discussion group archives
The benefits of writing a Usenet FAQ (Frequently Asked Questions)
Email newsletters/announcements
Personal Notification Services
Comments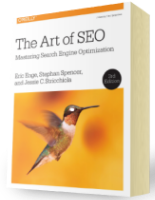 Chapter 7:
Content Marketing
From the fundamentals of link building to the nuances of natural linking patterns, virality, and authority.
Get Free Chapter