The Future of Internet Marketing
The Internet is changing the way we do business — the way we market, sell, service, distribute, communicate, and work. Businesses are already beginning to communicate with customers, distributors, suppliers, shareholders, and employees in a way that is truly one-to-one and real-time. "Personalized" web sites are delivering tailored messages to an infinite number of target markets. These sites can change based on the user's buying and surfing habits, past usage of the site, demographics, relationship to the company, and a multitude of other attributes which could be collected from the users online or culled from corporate legacy databases. The Internet has also become the most economical distribution system of information available. Companies can ship "bits" – weightless electrons – around the world at the speed of light, for a fraction of what it costs to ship heavy "atoms" at the speed of freight.
In just a few years the Internet will be as essential of a business tool as what the phone and FAX are today. Intranets, real-time transaction processing, and "customer self-service" are just the beginning. We are transitioning from static sites to dynamic and personalized sites, from broadcasting to narrowcasting, from information dissemination to actual commerce. But, we can also look forward to an "infoglut" of unimaginable proportions, Web sites that run into the millions of dollars to build and maintain, and massive data warehouses about consumers that are networked together across companies and continents. Imagine, personal (software) agents will surf the Web in our place, and thus Web sites of future will be designed more for our agents than for us. And privacy will be a thing of the past: web sites will know your buying patterns, your interests, your salary, your level of education, even your credit record.
Comments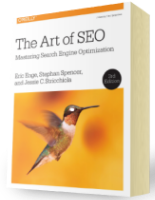 Chapter 7:
Content Marketing
From the fundamentals of link building to the nuances of natural linking patterns, virality, and authority.
Get Free Chapter