One-To-One Internet Marketing: An Online Demonstration
World Wide Web marketing is about one-to-one marketing of value-added services and information to the Internet user. The Internet gives companies a unique opportunity to relate to customers and potential customers on a new level, catering to their needs and wants on an individual basis. This strategy of "mass customization" not only saves the customer time and money by making their visit more efficient and productive, but also provides valuable customer profile and market research data. This half-day workshop will give you a better understanding of one-to-one marketing on the Internet, preparing you to more fully participate in the marketplace.
This workshop is specifically designed for non-technical marketing professionals. Using a LIVE Internet connection so you can see what the buzz is all about, an expert in Internet marketing and technology will explain what it all means!
Basic concepts, terms, practices, and directions will be clearly defined
and demonstrated. These incude:
Value-added marketing (content beyond products)
Personalization (web pages tailored to the individual user)
Ergonomic web site design (page layout; form vs. function)
Engaging the user through interactivity
Ties to corporate systems (interfacing customer, product, and/or HR
databases to the web)
Java, VRML, Shockwave, and other enabling technologies
Promotion strategies (listing with search engines, subject indices like
Yahoo, industry-specific sites, etc.; reciprocal links, advertising)
Several noteworthy web sites will be closely examined, as we analyze in detail the characteristics of their success. I'll illustrate exactly how these web sites are:
Increasing sales
Cutting costs
Generating advertising and subscription revenue
Obtaining market research information
Generating traffic and motivating repeat visitors
Winning awards and gaining recognition
Outshining their competition
Comments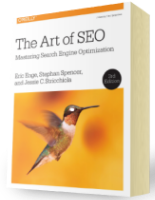 Chapter 7:
Content Marketing
From the fundamentals of link building to the nuances of natural linking patterns, virality, and authority.
Get Free Chapter